So that children can also participate in the "Cecil HEALY" sports commemorations, the sports associations, which also run the Healy challenge, also offer a mini Healy challenge.
Here is some information:
Children between 10 and 14 years,
Registration on site between 9h and 9h45 (limited to about 50 participants),
Small triathlon: 25m swimming, 1760m mountain biking, 700m running. DEPARTURE AT 10:30 am
Big triathlon: 50m swimming, 3520 mountain biking, 1400m running. DEPARTURE AT 10:00.
To participate in the mini challenge, I need:
a bike in good condition,
a bicycle helmet to ride,
suitable clothing for each event (swimming, mountain biking, running)
The challenge is carried out under the responsibility of the parents who must be present during the events.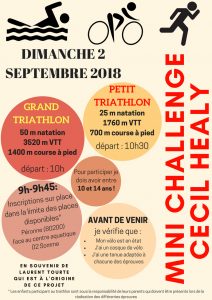 The sports associations are keen to set up this mini challenge, initiated by Laurent Tourte, head of sports facilities at the CCHS. Laurent Tourte unfortunately passed away in January 2018 but his project will be realised.