By
|3 fareneau
Assevillers continues to be actively involved in the commemoration of the Great War during this year 2018.
Thus, Michel GUILBERT, Mayor of Assevillers for over 15 years, expert in the agricultural sector, proposed on Tuesday, June 5, 2018, a "café d'histoire" at the Historial of Péronne.
The conference was very enriching and provided an overview of agriculture before, during and after the First World War.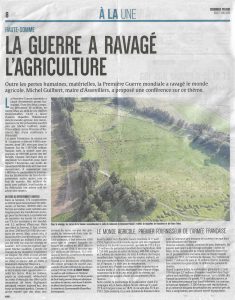 Courrier picard du Jeudi 7 Juin 2018
Next "café d'histoire" :
Date : Mardi 19 Juin 2018 – 18h30
 Theme: Cecil HEALY, the only Australian Olympic champion who was killed in action and buried at Assevillers.